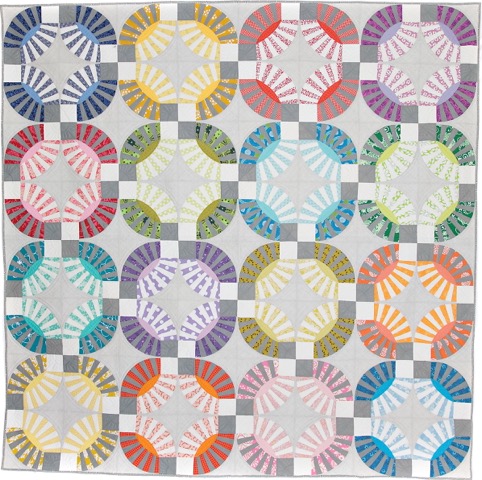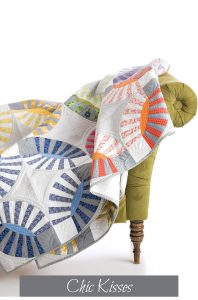 02 September 2018
Kurszeit: 12.00 Uhr bis 18.30 Uhr (inkl. 1/2 h Pause
Class time: 8:30 am to 3:00 pm (incl. 30 min break)
Class fee: 160.00 Euro incl. entry ticket for the day of the class (supplies, food & beverages are NOT included in the class fee)
Chic Kisses 92″ x 92″
Chic Kisses is a contemporary approach to the iconic pickle dish or gypsy kisses quilt design. It uses the Quick Curve Ruler to easily cut the curves, and an easy curved sewing technique is used for successful piecing. It's a complex design which works up quickly with the step by step pattern from Sew Kind of Wonderful which has excellent graphics and instructions.
Supplies:
(32) fat eighths for pieced wedges (or 4 yards of fabric or (64) 10" squares)
2 yards gray fabric for wedges
2 yards white fabric for wedges
1-1/3 yard light fabric for setting squares
1-1/3 yard dark fabric for setting squares
(16) fat eights for setting ovals in center of wedges
4-1/2 yards background fabric
8-1/2 yards backing
3⁄4 yards binding
Quick Curve Ruler
12" square-up ruler
The Quick Curve Ruler can be purchased directly on site from Sew Kind of Wonderful.
If you would like to book this class, please fill in the respective form from the Downloads page.