Classes with Jacqueline de Jonge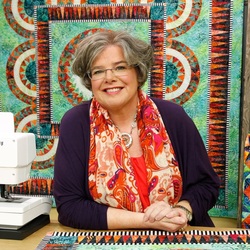 01 and 02 September 9:00 am to 4:00 pm
Jacqeline de Jonge is an international renowned quilting artist and famose for her wonderfully colorful paper-pieded quilts. Thanks to her way of paper-piecing, everybody will succeed in creating even the most complex designs.
For more information about Jacqueline and her quilts, check out her website under BeColourful.
The subjects for the two whole day classes are as follows:
– Imagine
– Arabian Nights
– Enchanting Stars
– Day Dream
When you are interested in a class, please select your subject of choice and fill in the respective registration form from the Downloads page.
The class fee is 265.00 Euro incl. a two-day ticket for the show.
(not included in the class fee are the written instructions, the class supplies and food & beverages)