Textile artist with classic-traditional roots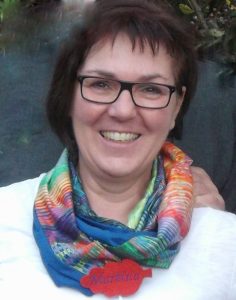 What started with a beginner's piecing class 17 years ago, has turned into an important part of her life. Hardly a day passes that she doesn't spend at least some time in her studio. As soon as one quilt is about to be finished, the ideas for the next one can be found on her design wall already.
During our Quiltfest, Martina will be showing her new exhibit:
"Of Fish Drifting Around Spaces"
Inspired by emotions, that take the better part of every human being, she created her "Inner Spaces" series. Every single one of us lives and loves under the influence of the most diverse emotions. These emotions dominate the way we think and how we do things.
Bright, mostly hand-dyed fabrics, .5″ wide strips, sewn in between free-form cut pieces, graphic designs, intense machine embroidery and free-motion machine quilting – these are the main aspects of her current artwork.
Another of the artist's subjects is nature with all its facettes. She tries new techniques and incorporates new materials, brings her romantic sentiments to life. She uses the tinyiest scraps, adds embroidery, beads, hand stitches and whatever seems suitable. Countless photographs taken during her extensive travels throughout Europe, when hiking, taking a walk around her town or capturing a view from her window serve as inspiration for these art quilts. From her series "From Becoming and Fading" she will show quilts and textile art representing the subject "Water".
Martina Hilgert-Vervoort is also going to teach during our Quiltfest. For more information on her classes, please check out the Classes page.
Contact information:
Martina Hilgert-Vervoort, Waldstr.60, 66589 Merchweiler, Germany
email: martina@googlemail.com