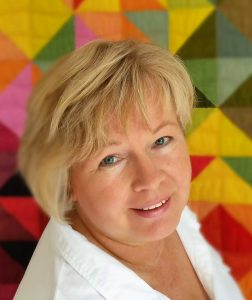 Monika Hülsebusch
For Monika, patchwork and quilting has been a hobby for more than 12 years, which provides the counterweight to her work and family life and allows her to live her creativity.
Developing from very traditional roots, in recent years, Monika has discovered her love for solid-colored fabrics. She designs, pieces and quilts using a fresh and contemporary approach. Her quilts reflect a clear, bright and modern style.
Over the past two years, several of her quilts have been featured in the renowned US quilting magazine "Modern Quilts Unlimited".
Some of her quilts and instructions are created in cooperation with the store "Quiltcabin" in Dortmund/Germany.
Contact information:
Monika Hülsebusch, Im Schilf 51, 26935 Stadland/Germany,
phone: +49 1573 1340430
https://www.facebook.com/monika.huelsebusch
https://www.instagram.com/monika.huelsebusch/