Hilde van Schaardenburg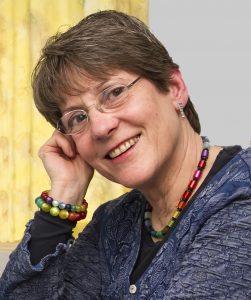 Art has always been prominently present in her life, as a natural companion on her path. An endless stream of ideas is continuously seeking its way towards a material expression. Being a versatile, creative person, she worked with many sorts of materials until eventually focusing on textile, paint and minerals. Her work is always an expression of the joy of life. Joy and inspiration that comes from the myriad forms and colours in nature.
Her work embraces the following areas: as a textile artist & quilter she exhibits widely in Europe, USA and Australia and has won several prizes; she is a coach for the awakening of artistic talents; and as a certified quilt judge she has been trained to evaluate objectively the works of others. Finally, she gives introductory courses in creative stitching and in jurying and judging.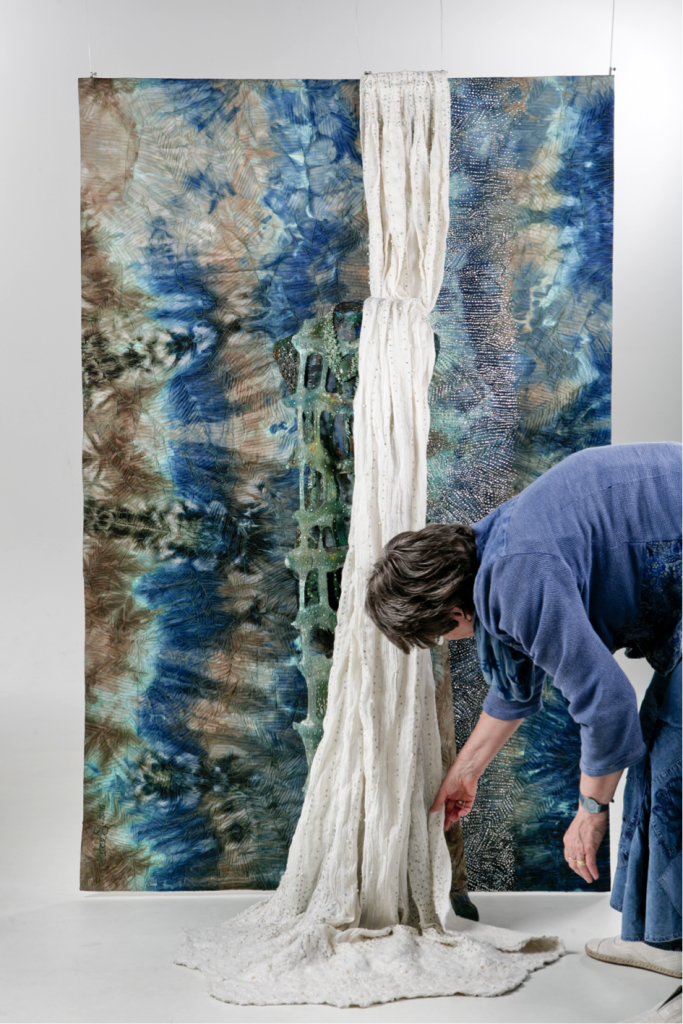 Waterfall
2011 – 2016
Quilt 192 x 125 cm
3D installation 200 x 100 x 100 cm
**************************************************
Mari-Carmen Pujante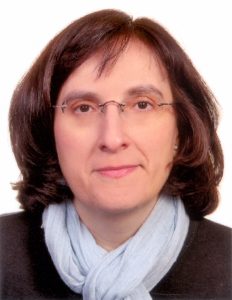 I have become a certified quilt judge in 2016. As a Spaniard living in Hamburg and with close ties to Britain, I enjoy exploring the quilting scene in each of these countries, as a member of their guilds. Having started in 2002 with traditional quilts, I moved into contemporary and art quilts, with a passion for miniatures. I usually have paper nearby to note down ideas for future projects: inspiration can come at any time! My favourite part of the creative process is thinking: brainstorming ideas, selecting fabric and materials, and considering which techniques to use. I love creating quilts based on themes and techniques I select myself, but I also like taking part in challenges: they get me out of my comfort zone and help me to discover new approaches. Some of my work has won prizes at judged exhibitions (FOQ and WQC), and has also been selected for juried ones (Textile News 4 and 5).
"Mikado" (1m x 1m) is one of my favourite quilts. I remember waking up in the middle of the night with the idea of the quilt as a flash: how I would make it and how I would call it.
"Sudoku"(21cm x 21 cm) and "Mosaics" (32cm x 20cm) are two miniatures I enjoyed creating for two different challenges.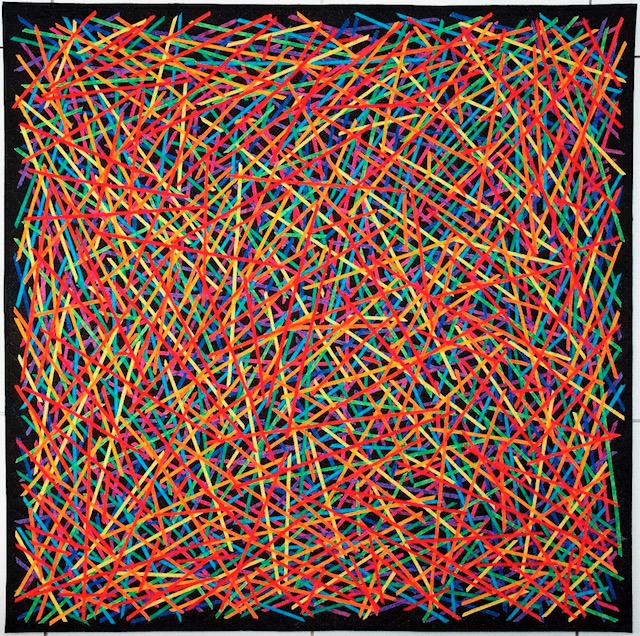 ****************************************************
Birgit Schüller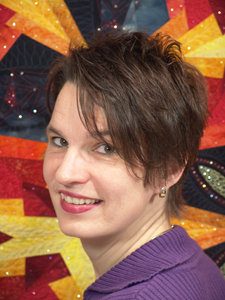 Creating with fabric and thread, indulging in colors and shapes, designing new artwork, realizing an idea, abandoning a plan, from actively controlling to letting the work in process taking over – I have learned these phases the hard way and go though them repeatedly with each new project. Unconditionally diving into the creative process makes you look at finished quilts in a quite differentiated way.
For more than twelve years, I have participated in quilt shows and exhibitions all over the world with my creations. My quilts and quilted garments have been awarded uncountable prizes. Apart from this, as a professional longarm quilter I have been quilting the patchwork tops of my large, international customer base for years. Thanks to my positions as Handi Quilter Ambassador and WQC coordinator for Germany I also have some insight into what's going on underneath the surface. One of my major goals is to promote talented European quilters and to encourage them to show their work internationally.