with Sabine Zarrath-Rind
WIth this design, you can use up small scraps – colorful or following a certain color scheme.
The design is simple with a wonderful effect.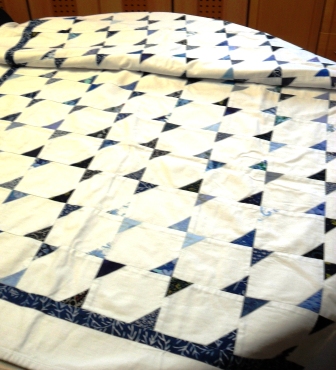 Date:
Saturday, 01 September 2018, 2:00 pm to 6:00 pm
Cost:
45.00 Euro/person, incl. entry ticket for the class day
(Class supplies, food and beverages are NOT included in the class fee!)
Supply list:
– Placemats, tablecloth – quilt
fabric:
block size 9,5 x 11,5 cm unfinished
or       11,5 x 11,5 cm unfinished
fabric calculation:
example for a square tablecloth 160 x 160 cm:
– approx. 2.6 m white fabric (damasque sheets, tablecloth or the like)
– approx. 1.6 m colored fabrics or scraps
– approx. 0.5 m colored fabrics, if you'd like to add a prairy point edge treatment on the outside edges of your tablecloth (all measurements refer to a   fabric width of 120 cm)
The required amount of fabric for other project sizes (e.g. placemats or tablecloths) can be calculated easily using a multiple of the respective block size – 10×10 cm (sqaure) or 8×10 cm (rechtangle).
In addition to your normal sewing tools (rotary mat, rotary cutter and rotary ruler) you need a pen or pencil and a short drawinf ruler.