with Sabine Zarrath-Rind
Pretty presents or to keep for yourself!

Date:
Saturday, 01 September 2018, 9:00 am to 1:00 pm
Cost:
 45.00 Euro/person, incl. entry ticket for the class day
Class supplies, food and beverades are NOT included in the class fee.)
Supply list:
– sewing machine (cleaned and oiled)
– rotary cutting mat
– rotary cutter and ruler
– pins
– sewing machine needles (extra!) size 90/14 Topstich or size 90 Jeans needle (size 90 or 100 Universal needles work, too)
– matching top and bobbin thread matching
– seat cushion (for an elevated sitting position)
– approx. 20 – 50 m cord, 4mm to max. 6mm thick
You can use any cord, except sisal cord which it too rough. Clothlining doesn't work either due to the wire core inside.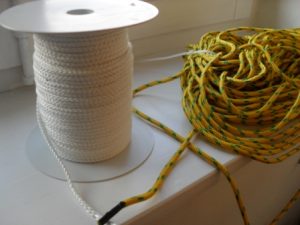 You can purchase cord from the teacher. Depending on the thickness and yardage, the cost varies between 8 and15 € for 20 to 50 m of cord.
Depending on the bowl size and the thickness of your cord, you will need approximately 3/4 yard of fabric for a big bowl, less for a smaller bowl. These bowls are great to use up scraps, selvage strips or "uglies", as you won'T see the fabrics used in the finished bowl any more. If you like, you can also combine various fabrics, printed ones or solids. Anything goes!