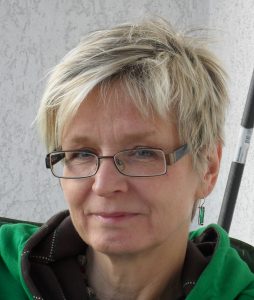 Born in 1953 in Stolp/Pommerania, lives in Beverungen/Germany.
All my life I have been surrounded by fabric and sewing machines: my mother was a seamstress. As a teenager, I sewed my clothes to show off at weekend parties. Quite early in my life, I wanted to study textile design.
However, as the textile industry experienced a depression at the time and due to the experiences gaing during a longer internship at a textile company caused me to ultimately follow a different route. I enrolled in college to study textile work and art to become an art teacher.
After graduating from college in Fulda and Kassel, I taught at several schools until a work accident prevented that I could follow this career any further.
A time of re-focussing began.
When I created my first patchwork quilt for my daughter in the late 1970s, hardly anybody in Germany had ever heard the term "quilt".
Only in the 1980, this craft became more popular over here.
In addition to glass art and painting working with textiles always has influenced my creative work.
I love to play with the structures and haptic of any textile material and am intrigued to continuously reate new objects.
For a few years, I have experimented with combining textile and non-textile materials. Furthermore, I'm interested in traditional designs and quilts that reproduce historic designs.
In order to develop a personal style, you have to deal with the traditional, early quilt styles. Knowing the structrue of early examples is a wonderful basis to find your own way of expression.
In the last couple of years, I was able to strongly expand my knowledge about the structure of designs and their artistic realization. Learning from renowned quilters have widely influenced my cerative possibilities and my technical knowledge.
Over the past few years, I have created a vast number of quilts.
Today, my favorite stage of working on a given quilt is the free motion quilting on my domestic sewing machine.
In order to share my joy of creating with textile materials and my desire to promote the textile art as such have prompted me to start teaching. For some time now, this has been my main field of activitiy and consumes a large portion of my everyday life.