Quilted Feathered Wreath
with Susanne Menne
In this class, you learn how to freehand quilt a feathered wreath.
Later, you may want to incorporate the finished wreath project into a larger quilt orf your choice. For example, it could become the center piece of a pillow case or a tablecloth. Quilted featherd wreath also make for very decorative wallhangings.
In order for you to be able to create a nice class project, it is recommended that already you have some experience in freehand quilting.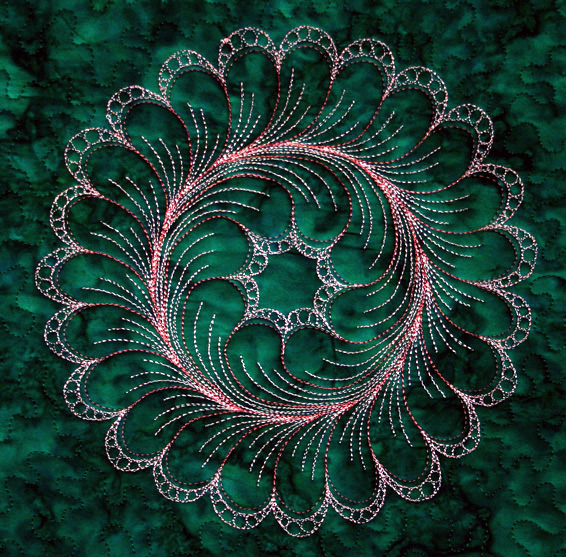 Class date:
Saturday, 01 September 2018, 1:00 pm to 4:00 pm
Class fee:
57.00 Euro incl. entry ticket to the show for the day of the class and the feathered wreath stencil
(Food and beverages are not included in the class fee.)
Supply list:
3 quilt sandwiches (solid colors), size of the tops: approx. 45 x 45 cm, size of the batting (Thermolarm) approx. 50 x 50 cm. Please use spray starch on the back of the tops and iron them dry. Repeat this proces (we won't use any backings)
quilting gloves
a thin marker, ceramics marker/pencil
3 different threads colors, 100% polyester, wt 40. One color should be matching the respective fabric color, the other two should be contrasting colors
small scissors to cut threads

  is providing HQ Sweet Sixteen classroom machines for each student in this class.