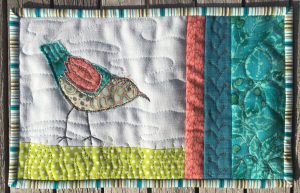 with Patricia Bussemeier
We will try and play with different way of appliquéing. Machine embroidery is adding accents. You will create a small project which you can become Mug Rug lateron.
Date:
Saturday,  01 September 2018, 9:00 am to 12:00 pm
Cost:
53.00 Euro/person, incl. entry ticket for the class day
Supply list:
Small scraps of batik, tone-on-tone, solid or hand-dyed fabrics. If you prefer a bolder, wilder look, you may bring print scraps as well.
Colorful or brownish colors for the bird, greenish fabrics for the leafs, bright fabrics for the flowers. We will cut our patches from small scraps. Anything 12 x 12 cm or smaller will work great.
For the background, you can bring scraps measuring 25 cm long. Strips work great and scraps, too.
1 marking pen for white fabric
1 pair of thread scissors
The teacher will also bring a selection of scrapts to use.

           We will work on Handi Quilter Sweet Sixteen machines.